A New Collective Defense Strategy: How NATO sees its partnership with business
A New Collective Defense Strategy: How NATO sees its partnership with business
Monday, June 12, 2023 (10:00 AM - 11:00 AM) (CDT)
Description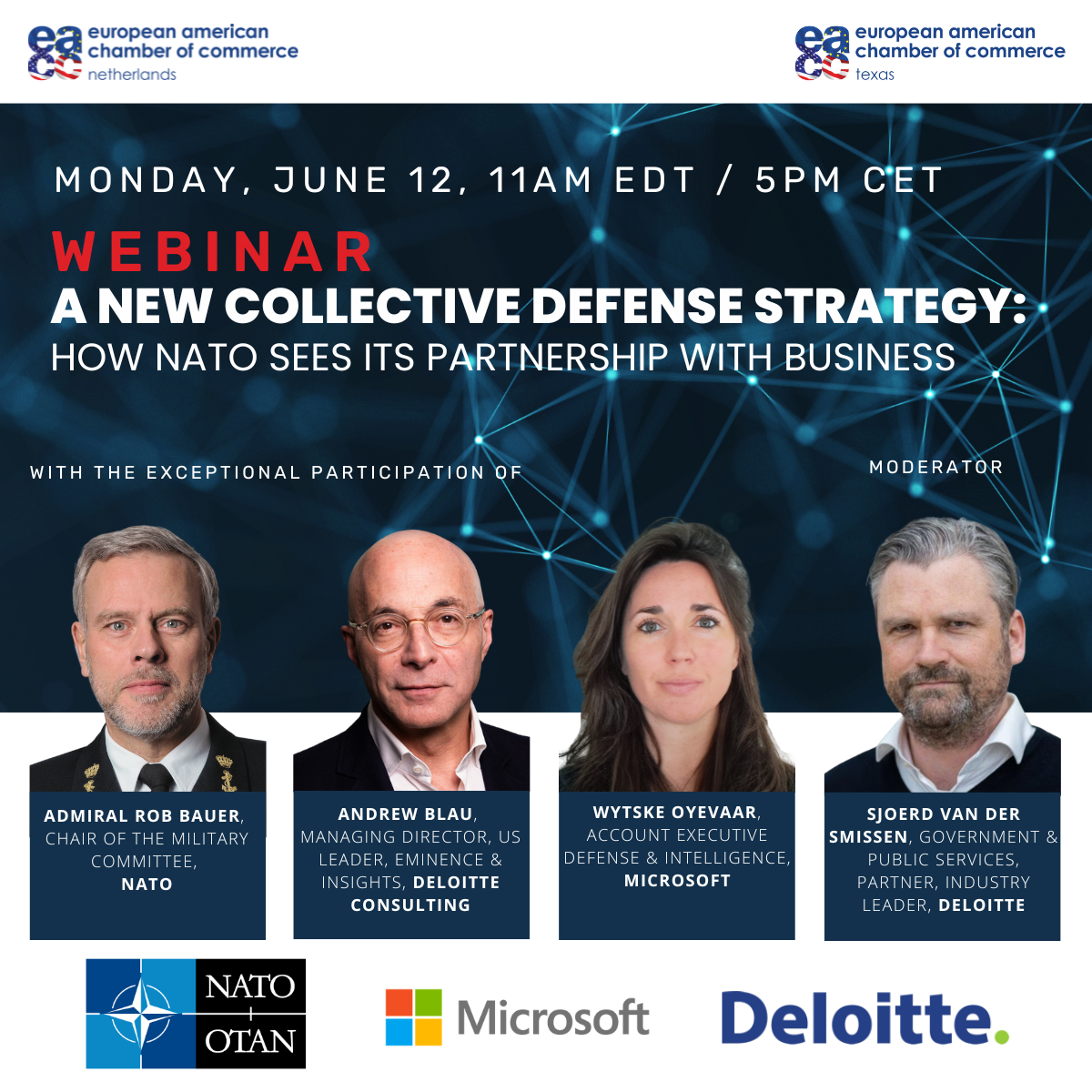 "A New Collective Defense Strategy: How NATO Sees its Partnership with Business."
The war in Ukraine has reshaped global security, ushering in a new era of collective defense not only for physical safety but also for the democratic values we all share. Collective defense requires resilience and that requires a whole-of-society approach. The private sector has a crucial role to play to ensure that the supply of goods and services continues uninterrupted and that we plan for potentially challenging times in the future.
NATO will share its vision for the role of the private sector in the U.S. & Europe in collective defense:
What role does the private sector play in increasing our overall resilience?
How will the war in Ukraine continue to impact trade worldwide?
What is at stake?
And how can we make sure shareholders choose the protection of democratic values over the pursuit of monetary value?
Microsoft is playing an important role in Ukraine's ability to continue business operations under extreme conditions. They will share how technology supports building resilience and digital stability for global businesses and governments.
Whole of society approach.
How technology can support resilience and enhance national security.
Public/Private partnerships and knowledge sharing.
Deloitte will provide an update on their 2022 industry scenario report "Reshaped by War...Examining the conflict in Ukraine and business implications for our interconnected world", focusing on the impact of the Ukrainian conflict and the significance of near-term future scenarios for informed decision-making especially in energy-intensive and commodity industries.
Business implications of these scenarios across domains, including macroeconomic issues, supply chains, energy, and food.
Trends that are likely to persist across all scenarios for businesses and governments:

Inflationary pressure on global economic growth;
Global supply chains shocks and reconfiguration;
Increased focus on energy independence but new challenges for an energy transition;
Increased risk of doing business in and with Russia;
Risk to global food security;
Heightened cyber risks.
Target Audience:
This program is meant for U.S. and European business leaders & founders of companies of all sizes and industries as well as government, embassy, consular & trade officials.
Platform: MS Teams
Date: Monday, June 12, 11 am EDT / 5 pm CET (60 minutes)
Speakers Bio: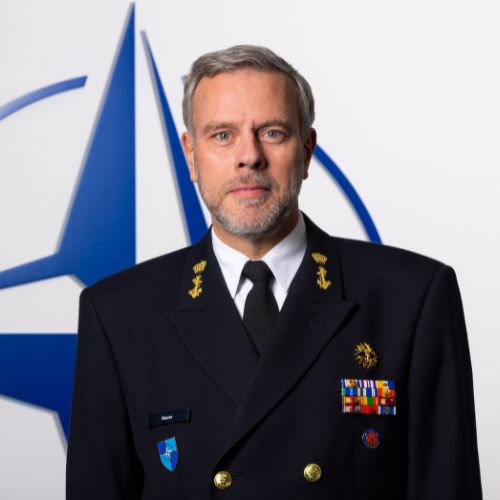 Admiral Rob Bauer
Chair of the Military Committee - NATO
Admiral Rob Bauer is the 33rd Chair of the Military Committee of NATO, serving as the conduit between NATO's Chiefs of Defence and the political decision-making bodies. He advises the Secretary-General and the North Atlantic Council while issuing guidance to key military leaders. Admiral Bauer's personal mantra of 'expect the unexpected' reflects his belief in the strength of NATO's cohesion amid complex security threats and power shifts. He aims to unify NATO's military leaders and foster cooperation across all member nations.
Commissioned as an officer in the Royal Netherlands Navy in 1984, Admiral Bauer has held various significant command roles. He commanded the Air Defence and Command Frigate HNLMS De Ruyter and served as Deputy Commander of Task Force 150 in Bahrain. As Director of Plans, he directed strategies for the future of Defense, operational policy, and innovation. As Vice Chief of Defence, he fostered flexible and sustainable cooperation with private companies. During his tenure as Chief of Defence, he led substantial investments and transformation efforts, rebuilding trust within the Netherlands Armed Forces.
---
Andrew Blau
Managing Director - US Leader– Ministry of Defense
Andrew is a leader in Eminence and Insights at Deloitte Consulting, shaping the firm's perspectives on critical issues for organizations and markets. He launched and led Deloitte's Strategic Risk Solutions practice, helping senior executives and boards navigate disruptions and competitive threats. As a senior advisor to the Chief Strategy Officer, he guides internal strategy development efforts across various practice areas.
Andrew's advisory work spans global commerce, transportation, energy, media, and healthcare. He led the team behind "The World Remade by COVID-19" and co-led Deloitte's "The Equity Imperative" on business's role in promoting equity.
Joining Deloitte in 2013, Andrew oversaw the world's largest scenario practice as a partner in The Monitor Group and CEO of Global Business Network, supporting leaders in developing strategies for complex environments.
A recognized expert, Andrew has testified before the US Congress, published extensively, and delivered international lectures. He is the founding president of WITNESS and has served on numerous nonprofit boards and advisory groups.
---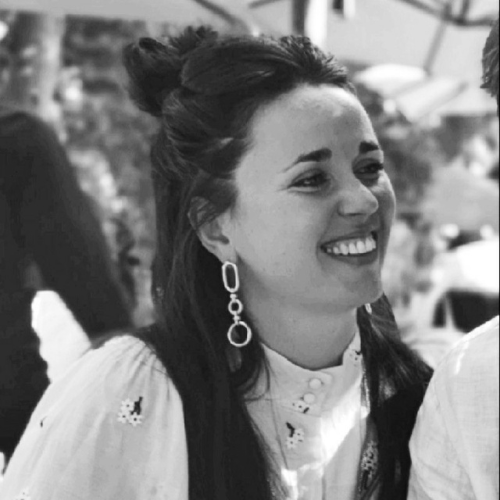 Wytske Oijevaar
Account Executive – Ministry of Defense
Wytske Oijevaar is currently working for Microsoft Nederland as an Account Executive for the Ministry of Defense, Intelligence Agencies and Foreign Affairs.
For the last 12 years, she has been working within the Defense and National Security Market, working for companies such as Thales and Esri. Prior to her experience in the Defense Industry – she studied History and finished a Master's in Genocide studies at "Nederlands Instituut voor Oorlogsdocumentatie (NIOD)".
In her role as Account Executive, she focuses on establishing strategic alignment and engagement between what Microsoft has to offer to government entities, critical infrastructure organizations and the (Defense) Industrial base. Public/private partnerships are key to becoming more resilient as a nation in the era of rapid digitalization and the shift in the geopolitical world order. Microsoft plays a key role in the digital transformation of organizations.
---
Moderator Bio:

Sjoerd Van der Smissen
Government & Public Services - Partner, Industry Leader – Deloitte
I am a partner at Deloitte Consulting and the Dutch Industry leader for Government and Public Services. Prior to this, I led Deloitte's team that works for Civil Government and the team that works for our Government in Deloitte Consulting. I have over 20 years of experience in many strategy, innovation, and transformation projects in the Defense, Security & Justice Sectors as well as in the broader Government.
Event Contact
EACC Texas Communications
Send Email
Monday, June 12, 2023 (10:00 AM - 11:00 AM) (CDT)